The Pennsylvania Psychology Law Exam
After you have passed the Examination for Professional Practice in Psychology (EPPP), you will be required to take and pass the Pennsylvania Psychology Law Exam (PPLE) to be able to practice Psychology in the Commonwealth of Pennsylvania.
Scheduling the PPLE Test
Once you have received a passing score on the EPPP, a testing company called Professional Credentialing Services (PCS) will send authorization to test (ATT) forms by mail for the exam.
You can schedule your test at any Lasergrade Testing Center. To find the testing center closest to you, visit the Lasergrade Pennsylvania State Board of Psychology site. Simply put in your zip code, and a list of the nearest testing centers will become available.
All Lasergrade Testing Centers schedule tests Monday through Saturday, though available times vary from site to site.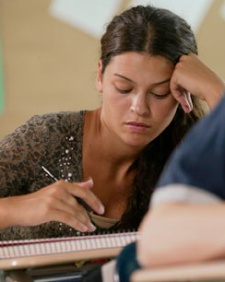 PPLE Test Format
The Pennsylvania Psychology Law Exam will be administered as a written exam on a computer screen at the testing center.
There will be 30 questions, all of which are multiple choice (with four choices, A, B, C, or D). There may be some pre-test questions that are randomly placed throughout the exam, which are not counted towards your final score. You will not know which questions are the pre-test questions. There is also no penalty for guessing. If you do not know an answer, it will be in your best interest to guess, as you have a 25% chance of choosing the correct answer.
You will have one hour to complete the exam.
You must get a scaled score of 75% on the test to pass.
For a tutorial on how the Lasergrade computer-based tests work, click here.
PPLE Test Content
The Pennsylvania Psychology Law Exam will cover relevant material included in the Pennsylvania Code. Check out www.pacode.com for the entire list of laws.
The main section of law that the test will cover is Chapter 41 "State Board of Psychology" (The Code) and the State Board of Psychology Act 52 of 1986 (The Act). A PDF of the material you will need to know for the PPLE can be found at the PA State Board of Psychology website. There are 10 Sections of material that you are responsible in The Code and 18 Sections of material that you are responsible for in The Act.
Here is a brief overview of the content of The Act:
Section 1: Declaration of Policy
This section declares that the practice of Psychology has an effect on public welfare, and therefore needs regulated.
Section 1 is commonly referred to as the "Professional Psychologists Practice Act."
Section 2: Definitions
This section of the law defines several important terms and phrases.
For example, "Person" means "an individual, corporation, partnership, association, unincorporated organization or a government or any political subdivision, agency or instrumentality thereof."
See the PDF for the entire list of definitions.
Section 3: Necessity for License
It is against the law to practice psychology without a license.
Section 4: (Repealed)
Section 5: (Repealed)
Section 6: Qualifications for License
This section describes what a candidate must prove in order to become licensed. The applicant must be of "acceptable moral character," have graduated from an accredited university with an appropriate degree, have completed two years of supervised experience, passed the exam(s) adopted by the board, paid all appropriate fees, and have no felonies on their record.
Section 7: (Repealed)
Section 8: Refusal, Suspension, or Revocation of License
This section describes what kinds of actions will cause the board to refuse someone a license, or to take away an existing license.
Actions such as incompetence, deception, fraud, violating laws, being convicted of a felony, etc.
Also, if a Psychologist is licensed in another state, he or she must report it to the PA board.
Section 9: (Repealed)
Section 10: (Repealed)
Section 11: Penalties and Injunctions Against Unlawful Practice
This section describes the penalties for practicing Psychology without a license. There will be a fine of no more than $1,000 for the first offense, and a fine of no less than $2,000 or imprisonment of between 6 and 12 months.
Section 12: Out-of-State Licensing
This section maintains that the board may present a license to someone in PA who has not taken the exams, as long as they are licensed in another state that has similar requirements.
Section 13: (Repealed)
Section 14: Severability
This section maintains that sections of the code and act can be judged to be invalid, but that this will not make the entire document invalid.
Section 15: Renewal; Fees; Records
This section details that licenses must be renewed every two years.
It also states that the board may decide how many hours of continuing education and the amount of the renewal fee.
Section 16: Reinstatement of License
This section says that the board will not reinstate a revoked license unless a professional reapplies after a period of five years and then meets all the necessary requirements.
Section 17: Surrender of Suspended or Revoked License
This section simply states that a person must hand over their suspended or revoked license in a timely manner, which shall be determined by the board.
Section 18: Impaired Professional
This section says that the board may appoint and decide the amount of compensation for a consultant who would act as a liaison between the board and treatment facilities.
The board can dismiss any penalties against an impaired licensee as long as he or she is in an approved treatment program.
This overview is brief, and it is strongly recommended that you read through the actual Professional Psychologists Practice Act for further information. See our online PA Psychology Test resources page for relevant links.